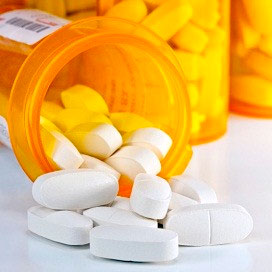 According to the latest data collected by the National Center for Health statistics, poisoning, primarily by prescription drugs, has now surpassed car accidents as the leading cause of accidental death in the United States. In 2008, 41,000 Americans died from poisoning, compared to 38,000 lethal car accidents. The data, which can be found on the CDC's web site, shows that:
In 2008, poisoning became the leading cause of injury death in the United States and nearly 9 out of 10 poisoning deaths are caused by drugs.
During the past three decades, the number of drug poisoning deaths increased six-fold from about 6,100 in 1980 to 36,500 in 2008.
Opioid analgesics (prescription pain killers) were involved in more than 40 percent of all drug poisoning deaths in 2008, up from about 25 percent in 1999.
During the most recent decade, the number of drug poisoning deaths involving opioid analgesics more than tripled from about 4,000 in 1999 to 14,800 in 2008.
While the drug poisoning death rate has risen among all age groups in the last decade, the death rate among adults between 45-54 is now the highest. Death by medicine is a 21st-century epidemic, and America's "war on drugs" is clearly directed at the wrong enemy when you consider that prescription drugs are now killing far more people than illegal drugs.
The most commonly abused prescription drugs like OxyContin, Vicodin, Xanax and Soma now cause more deaths than heroin and cocaine combined. In fact, prescription drugs are now the preferred "high" for many, especially teens, as they are typically used legally, which eliminates the stigma of being a "junkie."
Kennon from Texas writes:
"I used to have hip pain every night. I would lay in bed and my hip pain would aggravate me and cause me to not be able to sleep well. Relevit changed that. I take it twice a day and my hip does not bother me at night any more."
Americans Consume 80 Percent of the Global Supply of Pain Pills!
The skyrocketing rate of prescription drug addiction has also led to a massive increase in robberies, which has led some pharmacies to quit stocking the sought-after drugs. Meanwhile we're seeing ever-increasing amounts of legislation popping up designed to increase the use of drugs while preventing you to seek alternative non-drug treatments, especially for pain. To put these statistics into even further context, consider this:
According to an article in Mail Online published last month:
"Americans consume 80 percent of the world's supply of painkillers – more than 110 tons of pure, addictive opiates every year – as the country's prescription drug abuse epidemic explodes. That's enough drugs to give every single American 64 Percocets or Vicodin. And pain pill prescriptions continue to surge, up 600 percent in 10 years, thanks to doctors who are more and more willing to hand out drugs to patients who are suffering."
Stunning Statistics
A previous article on The American Dream website offers an eye-opening list of US drug use statistics. For the full list, please see the original article. Here are but a handful of the 18 statistics listed:
More than 25 percent of all children and teens in the United States take prescription drugs on a regular basis
More than 1 in 5 American adults, and 1 in 4 women, take at least one drug for "psychiatric" or "behavioral" disorders
Approximately one-third of all foster children in the United States are on at least one psychiatric drug. Many children in foster care are prescribed as many as five different psychotropic drugs
The percentage of women taking antidepressants in America is the highest in the world
Prescription drugs cost about 50 percent more in the US than they do in other countries. Meanwhile, tens of billions of dollars are spent on pharmaceutical marketing in the United States each year, and more than two dozen pharmaceutical companies each made over a billion dollars in profits during the year of 2008 alone
In related news, an excerpt from the book, Degree Mills: The Billion-Dollar Industry That Has Sold Over a Million Fake Diplomas raises another disturbing issue, namely that of fake doctors. According to the authors, Ezell and Bear, the number of fake PhD's in the US outnumber real, earned PhD's. In fact, more than HALF of all people claiming to have a PhD in the US have a fake degree! Unfortunately, this problem is not restricted to academics, who, hopefully, would not be able to inflict too much bodily harm. Fake medical degrees are also "an urgent problem," according to the authors.
"Twenty-five years ago, a Congressional committee calculated that there were over 5,000 fake doctors in the United States, and there are many more now. People have died because of these fakes," they write.
Furthermore:
"There are more than 3,300 unrecognized universities, worldwide, many of them outright fakes, selling bachelor's, master's, doctorates, law, and medical degrees to anyone willing to pay the price. No nation is immune from the problem. One international diploma mill, with offices in Europe and the Middle East and mailing addresses in the United Kingdom, run by Americans, has sold more than 450,000 degrees—bachelor's, master's, doctorates, medicine, and law—to clients worldwide, who did nothing more than write a check."
How Can You Avoid Being Killed by a Prescription Drug?
So what's the answer?  We believe that it starts with a healthy diet and nutritional supplementation program that helps the body naturally reduce the inflammation that is the root cause of pain.
Many of you know that inflammation is the precursor for almost every chronic disease known to man.
Our Best-Selling, Proprietary, Concentrated Curcuminoid Based Formula. Chiropractor Recommended!

View in Store
Recommended by Chiropractors and used by thousands from coast to coast and around the world, Relevit stands alone as the premier formula to reduce pain – naturally.
If you are concerned about pharmaceutical drugs with all their side effects and if you are tired of everyday joint and/or muscle pain, then Relevit may be the all-natural answer you have been looking for. (Click here to read why).