We've all read the signs of a heart attack listed on posters in the hospital waiting room. But what if there were other, earlier signs that could alert you ahead of time that your heart was in trouble?
It turns out there are. Researchers have done a lot of work in recent years looking at the signs and symptoms patients experienced in the months or even years leading up to a heart attack. "The heart, together with the arteries that feed it, is one big muscle, and when it starts to fail the symptoms can show up in many parts of the body," says cardiologist Jonathan Goldstein of St. Michael's Medical Center in Newark, New Jersey.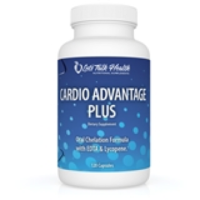 Cardio Advantage Plus – Heart Health Formula
Here are two of the five surprising clues that your heart needs checking out. Any of these signs – and particularly two or more together – is reason to call your doctor for a workup, says Goldstein.
Neck Pain
Feel like you pulled a muscle in the side of your neck? Think again, especially if it doesn't go away. Post-heart attack, some patients remember noticing that their neck hurt and felt tight, a symptom they attributed at the time to muscle strain.
People commonly miss this symptom because they expect the more dramatic acute pain and numbness in the chest, shoulder, and arm. Women in particular are less likely to experience heart pain that way, and more likely to feel twinges of pain and a sensation of tightness running along the shoulder and down the neck, says Margie Latrella, an advanced practice nurse in the Women's Cardiology Center in New Jersey and coauthor of Take Charge: A Woman's Guide to a Healthier Heart (Dog Ear, 2009). The pain might also extend down the left side of the body, into the left shoulder and arm.
Why it happens:
Nerves from damaged heart tissue send pain signals up and down the spinal cord to junctures with nerves that extend out into the neck and shoulder.
What distinguishes it:
The pain feels like it's radiating out in a line, rather than located in one very specific spot. And it doesn't go away with ice, heat, or muscle massage.
Sexual Problems
Having trouble achieving or keeping erections is common in men with coronary artery disease, but they may not make the connection. One survey of European men being treated for cardiovascular disease found that two out of three had suffered from erectile dysfunction for months or years before they were diagnosed with heart trouble.
Recent studies on the connection between ED and cardiovascular disease have been so convincing that doctors now consider it the standard of care to do a full cardiovascular workup when a man comes in complaining of ED, according to cardiologist Goldstein says. "In recent years there's been pretty clear evidence that there's a substantially increased risk of heart attack and death in patients with erectile dysfunction," Goldstein says.
Why it happens:
Just as arteries around the heart can narrow and harden, so can those that supply the penis. And because those arteries are smaller, they tend to show damage much sooner – as much as three to four years before the disease would otherwise be detected.
What distinguishes it:
In this case, the cause isn't going to be immediately distinguishable. If you or your partner has problems getting or maintaining an erection, that's reason enough to visit your doctor to investigate cardiovascular disease as an underlying cause. "Today, any patient who comes in with ED is considered a cardiovascular patient until proven otherwise," says Goldstein.
Stay tuned for Part 2 of  5 Surprising Signs of an Unhealthy Heart later in the week.