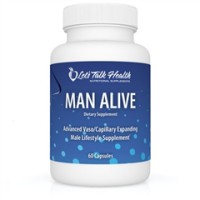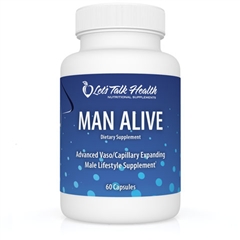 Can a Breakthrough All-Natural Nutritional Formula Bring Back Your Youthful Vigor and Vitality?
Millions of men every day are looking for ways to increase sexual stamina and sexual performance.
Impotence is a greater problem than ever before. This is partially due to the many drugs we take that cause this condition. The new and improved Man Alive assists with these issues very effectively.
When you were in your 20's and 30's there were lots of things you took for granted.
How much better was your sex life at that time?
How much more enjoyable was it for you without the stress of not being able to perform?
If you are like most men, you would probably say that your sex life was much more satisfying and fun.
In creating the new and improved Man Alive formula, we researched hundreds of different ingredients and other male enhancement formulas in an attempt to figure out something that would work.
What we found was disturbing.
Most male enhancement natural formulas are severely lacking in the key active ingredients that make them effective.
Most of the so-called natural "magic pills" for sexual performance either had herbs that did not work or contained minute amounts of ingredients that have clinically shown promise – but not in the amounts necessary for success.
Our new and improved Man Alive utilizes extracts of the most potent active ingredients known to assists the body in reigniting sexual health.
We also maintain the highest manufacturing facility that is GMP Certified and inspected by the FDA. Every run of the New and Improved Man Alive is tested in our laboratory for both potency and efficacy.
Here is Why the New & Improved Man Alive Works so Well…
Let's Talk Health synergistically combines five key herbal ingredients that have a clinically proven track record for assisting in sexual health for men.
It's important to remember that this proprietary combination works together to create this amazing formula. Trying to buy these individually at the health food store would not have the same impact this combination does.
The key five ingredients of the New and Improved Man Alive are:
Tribulus Terrestris – A potent herb which serves to instigate the production of testosterone, a crucial chemical in terms of the male sex drive itself. It has been used for thousands of years to treat erectile difficulties. It helps boost testosterone and increases desire.
Arginine – an amino acid that BOOSTS the level of nitric oxide in your blood. When your nitric oxide levels are higher, your blood vessels are more relaxed…and consequently blood flows more freely to the right places.
Tongkat Ali – this herb has been used by tribesmen in Indonesia for centuries to boost testosterone and to stimulate dopamine production in the brain which, in turn, boosts libido.
Epimedium (aka Horny Goat Weed) – an ancient Chinese herb which also helps to open up blood vessels and maximize blood-flow directly to where it's needed. Also known as "horny goat weed," studies suggest the active ingredient, icarriin, relaxes the smooth muscle cells of the penis.
Maca – another rare folk medicine which increases volume of semen as well as sperm count, and also contributes to increased libido.
These 5 active ingredients are the nucleus of our New and Improved Man Alive formula, but to boost its effectiveness we also have included Piperena – an alkaloid compound has the ability to enhance the availability of the five active ingredients to increase their potency and efficacy – to open the blood vessels and stimulate certain hormones in your brain.
In addition, DHEA – a natural testosterone booster, L-Carnitine – an anti-oxidant that assists human performance plus 4 more clinically proven ingredients for sexual performance round out this transformative New and Improved formula.