A healthy Thanksgiving might sound like an oxymoron, but we've put together a list of healthy, yet satisfying twists to some of the holiday classics. So even if you stuff yourself to discomfort, you can save yourself the guild trip. Try swapping several of these recipes at your Thanksgiving celebration next week. Maybe your family won't even notice!
Pear, Prosciutto & Hazelnut Stuffing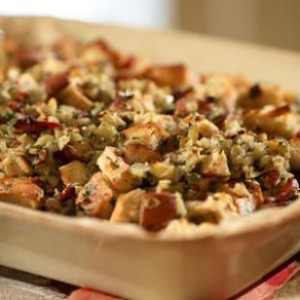 Ingredients:
3 teaspoons extra-virgin olive oil, divided
4 ounces prosciutto, thinly sliced, cut into ribbons
2 cups onion, chopped
2 cups diced fennel bulb
1/4 cup minced shallot
2 teaspoons minced fresh sage
2 teaspoons minced fresh thyme
1 teaspoon minced fresh rosemary
8 cups stale baguette, preferably multi-grain (not sourdough), cut into 1/2-inch cubes
2 Bosc pears, ripe but firm, chopped
1/3 cup chopped flat-leaf parsley
1/3 cup chopped hazelnuts, toasted
1 14-ounce can reduced-sodium chicken broth
1/4 teaspoon salt
Freshly ground pepper, to taste
Preparation:
Preheat oven to 350°F. Coat a 9-by-13-inch baking dish with cooking spray.
Heat 1 teaspoon oil in a large nonstick skillet over medium heat. Add prosciutto; cook, stirring, until crispy, about 5 minutes. Drain on a paper towel.
Wipe out the pan and heat the remaining 2 teaspoons oil over medium-high heat. Add onion, fennel and shallot and cook, stirring, until softened and beginning to brown, 6 to 8 minutes. Add sage, thyme and rosemary and cook, stirring, for 1 minute more. Transfer everything to a large bowl and gently stir in bread, pears, parsley, hazelnuts and the prosciutto. Add broth; toss to combine. Season with salt and pepper. Spoon the stuffing into the prepared baking dish; cover with foil.
Bake for 40 minutes; remove the foil and bake until the top is beginning to crisp, 25 to 30 minutes more.
Nutrition:
Per serving: 176 calories; 5 g fat ( 1 g sat , 2 g mono ); 8 mg cholesterol; 29 g carbohydrates; 9 g protein; 6 g fiber; 489 mg sodium; 283 mg potassium.
Cider-Glazed Roots with Cinnamon Walnuts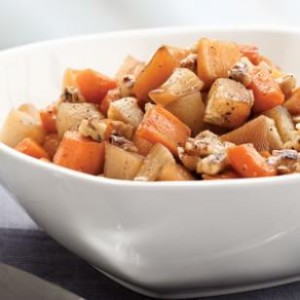 Ingredients
3 pounds assorted root vegetables, peeled and cut into 1-inch pieces
1 cup apple cider
1/4 cup dark brown sugar
1/2 teaspoon salt, plus more to taste
1/4 teaspoon freshly ground pepper
1/2 cup chopped walnuts
1 tablespoon butter
1/8 teaspoon ground cinnamon
Preparation
Preheat oven to 400°F.
If using parsnips, quarter lengthwise and remove the woody core before cutting into 1-inch pieces. Whisk cider, brown sugar, 1/2 teaspoon salt and pepper in a 9-by-13-inch baking dish until the sugar is dissolved. Add root vegetables and toss to coat. Cover the baking dish with foil.
Bake for 20 minutes. Uncover and stir the vegetables. Continue cooking, uncovered, stirring every 20 minutes or so, until the vegetables are glazed and tender, about 1 hour more.
Meanwhile, place walnuts in a small skillet and cook over medium-low heat, stirring constantly, until fragrant and lightly browned, 2 to 6 minutes. Remove from the heat and add butter, cinnamon and a pinch of salt. Stir until the butter melts and the nuts are coated. Spread out on a plate to cool slightly.
Transfer the vegetables to a serving dish and sprinkle with the cinnamon walnuts.
Source:  Eatingwell.com
Clean Green Bean Casserole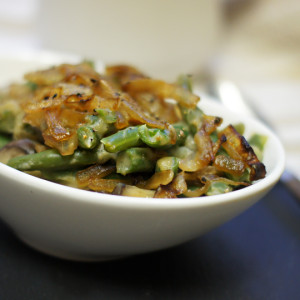 Ingredients
1 yellow onion, sliced thinly
1 tablespoon coconut oil, or butter
2 cups parsnips, chopped
10 oz. mushrooms, chopped
3 cloves garlic, minced
1/4 cup nutritional yeast
1 1/2 cups water
1 1/2 teaspoons fine sea salt
1 lb. fresh green beans
Preparation
Preheat oven to 350F.
Melt a pat of coconut oil, or butter, in a large skillet and add the sliced onions. Saute gently over medium-low heat for about 45 minutes, stirring occasionally until caramelized. Use a splash of water, as needed, to prevent sticking. Once the onions are tender and golden in color, remove from heat and set aside in a bowl for later.
While the onions are cooking, you'll have plenty of time to steam the parsnips.
Fit a steamer basket into a saucepan, and fill with one inch of water. Add the 2 cups of chopped parsnips, and bring the water to a boil over high heat. Cover and reduce the heat to low, steaming for about 8 minutes, or until the parsnips are easily pierced with a fork. Transfer the steamed parsnips to your blender container, and set it aside.
Using the same steamer basket and saucepan, break the pound of fresh green beans into one-inch pieces, and toss them into the steamer basket. Bring to a boil, then cover and steam for 6-8 minutes, until the green beans are bright green with a bit of crunch.
Transfer the cooked green beans to an 8″ x 8″ glass baking dish.
Once the onions have finished caramelizing, you can use the same pan to saute the mushrooms and garlic. Melt another pat of coconut oil or butter, and saute the garlic for about 3 minutes, then add the mushrooms. Cook for about 6 minutes, until liquid is released from the mushrooms.
Spread half of the mushroom mixture into the baking dish of green beans, and pour the other half of the mixture, along with any liquid, into the blender container with the steamed parsnips.
Into that same blender container, add 1 1/2 cups water, 1 1/2 teaspoons sea salt and 1/4 cup of nutritional yeast to the cooked parsnips and mushrooms. Blend until smooth and creamy. (This mixture may be a bit salty to taste at this point, but keep in mind that it will be diluted when it's poured over a pound of green beans!)
Pour the creamy sauce over the green beans and mushrooms in the glass baking dish, and stir to coat well. (You may end up with more sauce than you need for this recipe).
Top with the caramelized onions to finish! Cook for 30 minutes.
Source: Detoxinista.com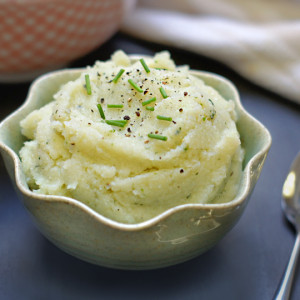 Mashed Cauliflower "Potatoes"
Ingredients
Medium-sized head of cauliflower, chopped into florets (about 1 1/2 lbs.)
3 roasted garlic cloves
1 teaspoon fresh thyme leaves
1 teaspoon fresh chives, chopped
salt and pepper, to taste
Preparations
Fill a large saucepan with about an inch of water, and insert a steamer basket. Bring the water to a boil, and add the cauliflower florets. Reduce the heat to a simmer and cover, allowing the cauliflower to steam for 6-8 minutes, or until fork tender.
Drain the steamed cauliflower, and transfer to the bowl of a large food processor. Add in the seasonings, and process to your desired texture.
If additional liquid is needed to facilitate blending, feel free to add a splash of almond milk or water, and adjust the seasonings to your taste. I ended up using about a teaspoon of fine sea salt for this particular batch, but each batch may vary, so be sure to start with less than you think you need, and add more as you go.
Serve warm and enjoy!
Source: Detoxinista.com