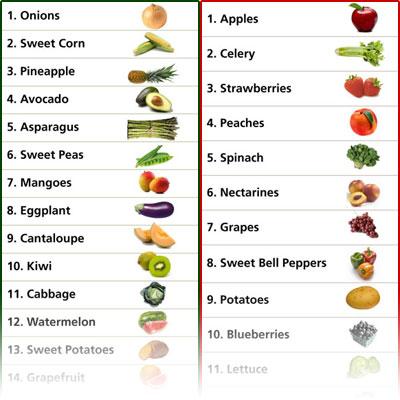 When we go to shop for groceries, most of us know the importance of getting organic fruits and vegetables, but in these uncertain economic times, purchasing food that is good for you is expensive – and increasing.
We know that a healthy diet should include ample servings of fruits and vegetables, but unless you're careful about where you buy your produce from, those fruits and veggies likely include a heaping side of pesticide residue. Pesticide-based agriculture affects many along the way, from the farm workers who grow and harvest the produce to the consumer who eats it.
Although organic food can be costly, the budget-conscious consumer shouldn't worry. The Environmental Working Group estimates that we can reduce our exposure to pesticides by 80 percent if we simply know which foods typically have the highest pesticide residue and therefore should be bought organic.
To help consumers out, the EWG compiles an annual list called "The Dirty Dozen," which highlights the top twelve most important fruits and vegetables to purchase organic due to their high pesticide content. The EWG also compiles "The Clean 15," – the foods lowest in pesticides and therefore safest to buy conventionally. We have put these two lists together for you here, to use on your next shopping excursion.
---
The Clean 15

On a budget, choose these conventionally.
(Listed from lowest pesticide content.)

The Dirty Dozen

Always buy these organic.
(Listed from highest pesticide content.)