A hallmark of many chronic conditions, pain affects more Americans than diabetes, heart disease and cancer combined.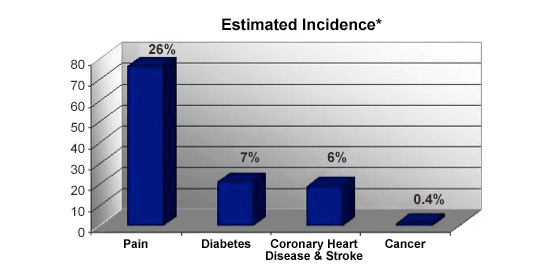 *Sources:
Pain – 76.2 million people, National Centers for Health Statistics
Diabetes – 20.8 million people (diagnosed and estimated undiagnosed), American Diabetes Association
Coronary Heart Disease (including heart attack & chest pain) & Stroke – 18.7 million people, American Heart Association
Cancer – 1.4 million people, American Cancer Society
Incidence of Pain in America
More than one-quarter of Americans (26%) age 20 years and over – or, an estimated 76.5 million Americans – report that they have had a problem with pain of any sort that persisted for more than 24 hours in duration. [NOTE: this number does not account for acute pain].

Adults age 45-64 years were the most likely to report pain lasting more than 24 hours (30%). Twenty-five percent (25%) of young adults age 20-44 reported pain, and adults age 65 and over were the least likely to report pain (21%).

More women (27.1%) than men (24.4%) reported that they were in pain.
Non-Hispanic white adults reported pain more often than adults of other races and ethnicities (27.8% vs. 22.1% Black only or 15.3% Mexican).
Adults living in families with income less than twice the poverty level reported pain more often than higher income adult.
We know that inflammation is the precursor for chronic disease.  Many of us suffer from pain associated with inflammation daily.  We also know that the use of over-the-counter and prescription pain relief drugs (including the opioid epidemic plaguing our country is literally killing tens of thousands of people yearly.
Our Best-Selling, Proprietary, Concentrated Curcuminoid Based Formula. Chiropractor Recommended!

View in Store
If you are tired of supporting Big Pharma and would like to try a natural alternative for your pain, our new and improved EXTRA strength Re-Lev-It®  has been making a difference in the lives of thousands for years.  We have shipped over 1 million bottles of this formula because it works.  
Please take a moment to click on the product link and read the numerous testimonials of people whose lives have been changed.