We know that food has amazing healing properties. Who new the strawberry could have such a curative impact. Supplementation is an extension of this principle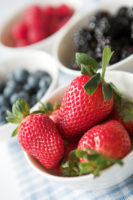 Scientists discovered strawberry consumption might help reduce and or slow the formation of stomach ulcers caused by alcohol consumption, viral infections and nonsteroidal anti-inflammatory medications, like aspirin and ibuprofen.
Source: Plos One, Oct 2011
We know that ginger and Bismuth Citrate have a great ability to assist the body in dealing with upset stomachs and ulcers. We have combined those two in our popular I'm OK for assisting the body with the symptoms of upset stomach, diarrhea, bloating, flatulence, gastritis, ulcers, parasites, colitis, and diverticulitis.
Ginger Root has been used in Chinese medicine for thousands of years and is known to be greatly beneficial in reducing nausea and upset stomachs. It was used in Greek culture for making breads, the forerunner of the delicious gingerbread we enjoy today (also in this season – think gingerbread men).
Bismuth Citrate is a common ingredient in many remedies for soothing gastric and mucosal linings.
Good nutrition and supplementation go a long way in naturally healing what ails you.