From late night commercials to in-store demos, the battle between the health benefits of juicing and blending is heating up. While these two methods of turning vegetables and fruit into drinks share some similarities, each have its own pros and cons. Here is a quick guide to help you choose the method that is right for you.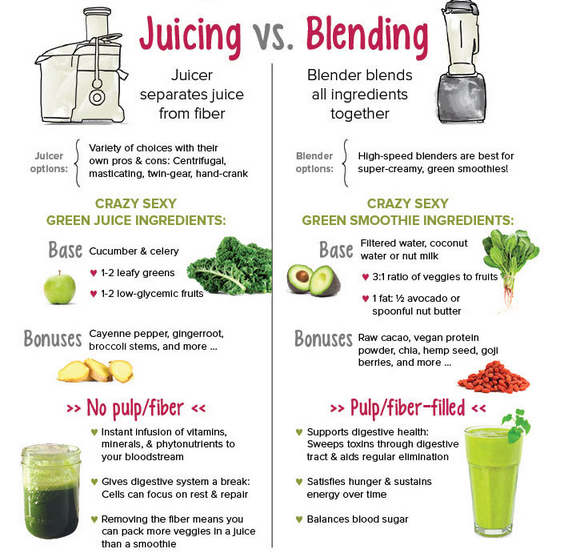 Juicing
Everyone is familiar with drinking fruit juice; orange and apple juice are part of everyday eating. However, did you know you can juice any fruit or vegetable? Juicers let you get the health benefits of raw food quickly and easily. There are many great health benefits from juicing. Juiced food is digested more easily by your body than whole foods. Juicing extracts the nutrients from bulky foods into a relatively small amount of liquid, allowing micronutrients to be easily accessible to your body. Juicing is also pulp free, which will make you less full and able to pack in more nutrients per serving! However, keep in mind that all of the insoluble fiber is left in the juicer and doesn't wind up in your juice! Juicers are also quite expensive, but a great investment. Here are two of our favorite juicing recipes…
Blood Pressure Reducing Juice
1 apple of any kind
1/2 grapefruit
2 celery stalks
1/2 cucumber
1/4 fennel bulb
1 clove of garlic
Stress Reliever Juice
2 green apples
A handful of spinach
1/2 cucumber
1 celery stick
1/4 lemon
1/2 inch of ginger root
Blending
These days fruit smoothies are everywhere, but with a high-powered blender like the Vitamix, you can blend almost more than fruit. What's great about blending is that your drink still contains the soluble and insoluble fiber that juices leave behind. In addition, blending enables you to blend more phytonutrients than juices. Blended drinks also tend to make you feel fuller for a longer period of time, which is great if you are trying to monitor your weight and calorie intake. Keep in mind, however, that certain nutrients in blends are not as easily accessible to your body as juices are.  Here are some delicious blending recipes…
Apple Pie Smoothie
2 C. chopped and cored apple
1 C. vanilla yoghurt
1 C. ice
1 Tbs. brown sugar
1 tsp. apple pie spice
½ Graham cracker
Breakfast Smoothie
1 cup vanilla or plain almond milk
1 frozen banana
1/3 cup frozen blueberries
3 stalks dino kale, (if using a bigger variety use less)
1 large handful spinach
3 pitted dates
Milk of choice (we recommend Almond)
Be sure to blend fully and enjoy!
Your goal should be to eat healthier. No matter if you choose to juice or blend, your body will thank you!