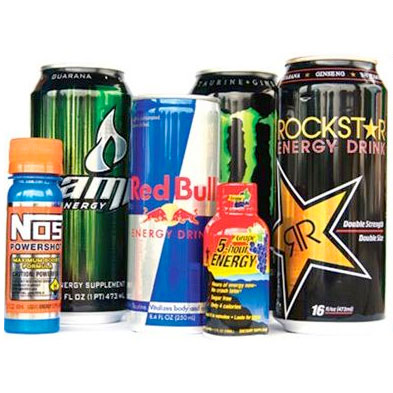 Whether it is Red Bull, RockStar, Monster, or Full Throttle, it seems so-called "energy drinks" are all the craze.
Unfortunately, most people don't realize that these popular drinks contain very little nutrient value and are packed with caffeine.
A survey of the top selling energy drinks in America reveals nutritional facts panels that have no more than 5-7 ingredients.
We developed our new and improved Energizer Drink Mix with nutrition in mind first. Our best-selling Nutritional Energizer Drink Mix is a revolutionary, new, energy drink combining powerful nutritional "energizers."
Unlike many fad drinks that bring you up with a lot of caffeine, sugar, or worse, Energizer Drink Mix actually supplies your body with over 50 nutrients it needs for vibrant energy levels. Plus the energy is designed to last all day!
At the heart of our new and improved Energizer Drink Mix is a new Amino Acid Blend containing over 1,000 mg. of L Carnitine – a nutrient that is a catalyst for energy production at the cellular level plus both essential and branched-chain amino acids. It is also loaded with Vitamin B-12 – critical in converting carbohydrates into glucose in the body – leading to energy production and a decrease in fatigue and lethargy in the body.
What you won't find in Energizer Drink Mix:
No Ephedra
No Added Caffeine
No Sugar
No Sodium
Energizer Drink Mix helps provide muscle energy and helps enhance brain clarity for hours; unlike many chemical type energy formulas which only give you a "rush" that is gone in 20 minutes, often leaving you feeling more tired than before you took the product.
Whether you're an athlete or a professional on the go, you need to put back what the day takes out of you.
Compare and discover why Energizer Drink Mix one of most cost-effective sources of all day energy on the market today.
Energizer Drink Mix is formulated for all day energy! Experience it for yourself and feel the difference!
Connie from Florida said:
"I have been using the Energizer Drink Mix for about 2 years now. I love it. It is a healthy way to keep me energized."