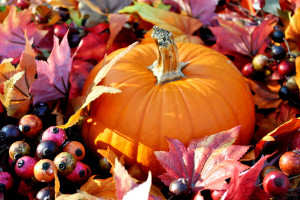 Highly nutritious and loaded with antioxidants, pumpkins are a great super food to incorporate into your diet this fall. Usually used for decor, this under appreciated squash is one of the most beneficial foods that a person can eat. Moreover, it's inexpensive, available year round either in its whole form or in can form, and can be used in hundreds of different tasty, yet nutritious recipes.
Benefits of Eating Pumpkin:
Raw pumpkin contains just 15 calories per 1/2 cup
Pumpkin is  full of iron, zinc, and fiber- important nutrients for children and women
Pumpkin's bright orange color is a sign that the plant contains high amounts of vitamin C and beta carotene
Pumpkins are high in lutein and zeaxanthin, which are known to reduce the risk of chronic eye diseases, including age-related macular degeneration (AMD) and cataracts.
Pumpkin seeds are also a great source of nutrition! These tiny seeds are rich in fiber, iron, magnesium, phosphorus, potassium, zinc, copper, and manganese, as well as protein
Raw and canned pumpkin are both extraordinarily high in fiber and very low in calories. Not only that, but this super food also comes packed with tons of disease fighting nutrients. Pumpkins include high amounts of potassium, pantothenic acid, magnesium, as well as both vitamins C and E.
More powerful than all of the vitamins in the pumpkin however is the rich supply of bioavailable carotenoids. These carotenoids provide numerous health benefits by reducing the risk of several chronic disorders. Carotenoid consumption decreases the risk of cataracts and macular degeneration. Beta-carotene, which can be found in high amounts in pumpkins, along with other carotenoids may also prove to be helpful in preventing the free radical-caused complications of diabetes and the risk for cardiovascular disease associated with diabetic complications.
According to WebMD, Beta-carotene is often used to decrease asthma symptoms caused by exercise, prevent certain cancers, heart disease, cataracts, AMD, and used to treat AIDS, Alzheimer's disease, depression, epilepsy, headache, heartburn, high blood pressure, infertility, Parkinson's disease, rheumatoid arthritis, schizophrenia, and skin disorders like psoriasis vitiligo.  Lycopene, which can also be found in the pumpkin, has been reported to be protective against heart disease, prostate cancer and lung cancer.
All in all, pumpkin is a real nutrition superstar. Try incorporating it into your weekly diet by scooping raw pumpkin into your next protein shake. Add a dash of pumpkin pie spice, enjoy!